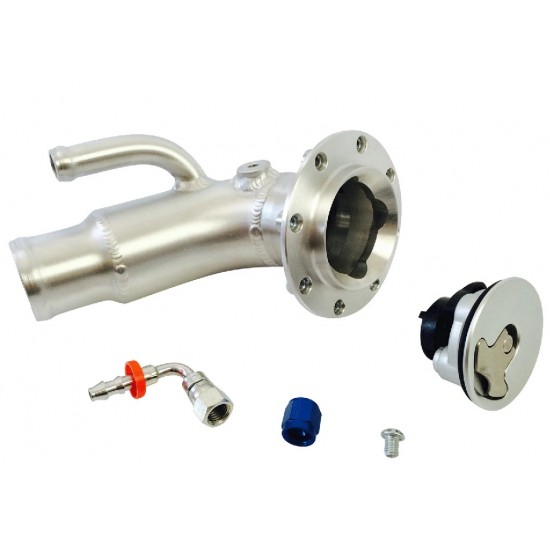 New
Elise / Exige S2 Motorsport Filler Neck
Elise / Exige S2 Motorsport Filler Neck Assembly - Tuff Jug
High Quality "Aero" style flush filler assembly for the Lotus S2
The series 1 & 2 Lotus Elise and derivatives (including 211 and Exige series 2) with both Toyota and Rover engines have a narrow filler neck due to the fuel cap design. The filler neck was also installed with an unleaded fuel flap. Both these elements prevent the use of Tuff Jug dry break style fuel filling systems without the use of a narrow adaptor on the dispenser. This limits the fuel flow and hinders the seating of the Tuff Jug into the filler neck assembly, increasing the possibility of fuel spillage.
Our filler assembly is designed specifically with the 36mm diameter Tuff Jug in mind, it bolts directly into the original clam aperture without body mods*, and utilises the standard filler hose assembly without modification.
The deeper alloy elbow on the back of our assembly allows the Tuff Jug nozzle to fully open, allowing greatly improved filling speeds and faster/safer pit stops!
This assembly can also be fitted to road going / track day cars as a direct replacement for the Lotus item.
Can be supplied with a locking or non locking filler cap.
This modification is recommended by the LOTRDC to improve safety during the refuelling process by shortening the time spent in the act of refuelling and improving the connection between the refuelling container and the vehicle.